Groundsmaster® 1200 (31905)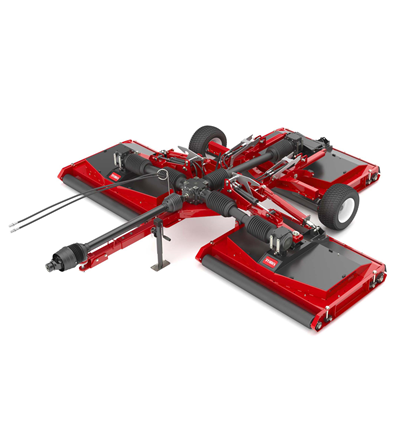 The Groundsmaster® 1200 delivers an unparalleled combination of productivity, durability and superior cut. It features a 3.7 m width of cut and can mow up to 3.53 hectares/h at 9.7 km/h per hour. Remaining true to Groundsmaster's unmatched reputation of durability, the 1200 was designed for years of reliable mowing. Its spindles are the same as Toro's large rotaries and capable of withstanding the roughest conditions. The bi-directional impact resistant system provides additional protection to the wing decks. The Groundsmaster® 1200's independently articulating decks hug undulations for an exceptional finish. Combine this with the dual roller design, the Groundsmaster 1200 delivers a high-quality cut and rich turf striping in most conditions.
Productivity, durability and exceptional cut. That's what makes the 1200 the only pull behind worthy of being a Groundsmaster®.
Width of Cut

Overall: 365 cm
Individual Deck: 137 cm

Mowing Rate

Up to 3.53 hectares/h

Mowing Speed

9.7 km/h

Deck Construction

10-gauge high strength steel constructed deck with 7-gauge bolt-in reinforcements. 7-gauge welded steel side skids with 12.7 cm diameter steel rollers. 

Height of Cut

1.3 cm to 10.2 cm

Deck Drive

PTO driveshaft drives 4-way gearbox, secondary driveshafts drive individual deck gearboxes, spindles belt driven with spring tensioner pulley

Spindle Bearings

3.17 cm diameter spindle shafts, 22.9 cm diameter conical ductile iron housing and two greaseable tapered roller bearings. Driven counter clockwise when viewed from the top. 

Wing Protection

Bi-directional, impact absorption damper on each wing deck

Transport Height

192.4 cm

Transport Length

369.9 cm

Transport Width

218.4 cm

Width

380.5 cm (decks down)

Power Requirements

Minimum 35 hp at the PTO, 540 RPM

Blade Tip Speed

15,000 ± 300 ft/min at 540 PTO RPM

Blade Type

9 blades, 6.4 mm thick

Tyres

20 X 10 - 10 6 ply

Total Weight

1,354 kg

Warranty

2 years limited warranty. Refer to operator's manual for further details.