Reelmaster® 7000-D (03781)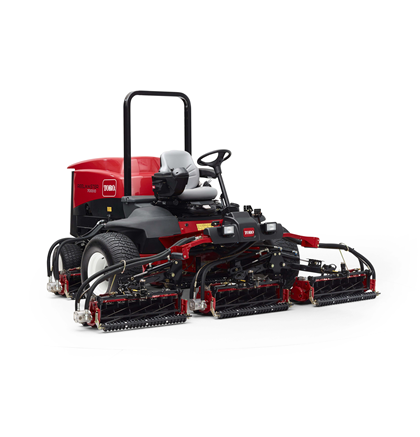 The Reelmaster® 7000-D is a multi-use, heavy-duty reel mower designed for productivity and performance in the most extreme fairway and rough conditions. We started with EdgeSeries™ reels - DPA cutting units that manicure your turf and save you time with easy set up and long-lasting adjustments. Then, we added a 49 horsepower (36.5 kW) Kubota® diesel, high-torque reel motors, and the SmartCool™ auto-reversing fan system. Finally, we combined it all with a whopping 121" (307 cm)width-of-cut or 126" (320 cm) width-of-cut with optional 32" (81.3 cm) cutting units! This mower has it all - power, productivity, and superior after-cut appearance. By the way, it's also an overseeding beast.
Model year 2016 shown.
Engine

49 hp (36.5 kW) Kubota® V2403, 4-cylinder, liquid-cooled diesel

Cutting Width

307 cm 

Fuel Capacity

83 litres diesel fuel

Transport Speed
0-22.5 km/h forward, 0-11 km/h reverse
Mowing Speed
0-11 km/h forward
Height of Cut
6.35 - 63.5 mm
Traction Drive

Full-time, bi-directional, hydrostatic, closed-loop, 4WD transmission

InfoCentre™

Standard

Seat

Premium seat with adjustments for operator weight via air ride suspension, seat fore/aft position, seat back angle, arm rest height and retractable seat belt.

Tyres

Front: 31 x 13.5 - 15, 4-ply Turf tread
Rear: 20 x 12 - 10, 4-ply multi-trac tread

Interlocks

Prevents engine from starting unless traction pedal is in neutral and PTO is disengaged.

Roll Over Protection System (ROPS)

2-post standard

Weight

1,574 kg - with full fluids, no cutting units

1,937 kg - with full fluids and 69 cm 8-blade cutting units

Warranty

2 year limited warranty. Refer to operator's manual for further details.