Reelmaster® 5010-H (03674)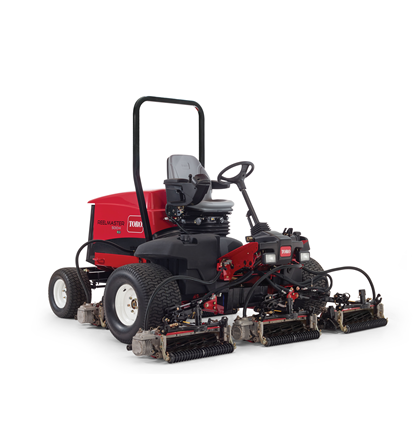 The Reelmaster® 5010-H is the industry's first and only fairway mower with a true hybrid drive system. The Reelmaster® 5010-H utilises a Kubota 24.8 hp diesel engine in concert with an in-line motor generator and a self-recharging 48-volt battery pack to provide seamless power to the vehicle and cutting units. The combination of these two power sources comprises Toro's patented hybrid power delivery system called PowerMatch™. PowerMatch enables the Reelmaster® 5010-H to match the power generated to the power required for all cutting conditions. The result is the availability of over 40 horsepower, but only when cutting conditions require it, which saves on average 20% fuel usage, improving operating costs, and the vehicle's carbon footprint.
The Dual Precision Adjustment (DPA) cutting units - featuring Toro's all new EdgeSeries™ reels combine to deliver a consistent, high quality cut and superior after cut appearance, while reducing maintenance with improved reel edge retention.


Toro Reelmaster® 5010-H - First fairway mower with a true hybrid drive system
The Toro Reelmaster® 5010-H is the industry's first and only fairway mower with a true hybrid drive system and gives you the power and perfomance you want with the fuel efficiency and reliability you need. Through its patented PowerMatch™ system, the Reelmaster® 5010-H utilises the power of a diesel engine in combination with a battery pack to supply over 40 horsepower when conditions require more power output.
Engine

24.8 hp (18.5 kW) Kubota® 3-cylinder, liquid-cooled, diesel engine.
Four 12v Absorbed Glass Mat (AGM), sealed, maintenance-free lead carbon batteries.

Cutting Width

254 cm 

Fuel Capacity

53 litres diesel fuel

Transport Speed

0-16 km/h forward, 0-6.4 km/h reverse

Mowing Speed

0-12.8 km/h

Height of Cut

8-Blade recommended range 1.3 cm-2.5 cm
11-Blade recommended range 0.6 cm – 1.9 cm

Traction Drive

Front drive wheels powered by a hydrostatic pump with individual wheel motors

Controls

Single foot-operated traction pedal, foot actuated mow speed limiter, foot actuated service and parking brake. Hand-operated key ignition switch, switch-operated throttle, isochronous engine speed control, cutting unit raise/lower joystick, cutting unit engage switch, and headlight switch all positioned on right hand pivoting control console.

Cooling System

Rear mounted radiator with industrial tube and fin construction, 6 fins per inch, 5.2 litres system capacity.

Steering Control

Rear wheel, power steering with and independent hydraulic pump and circuit

Seat

Deluxe high back suspension seat with fore, aft, height and weight adjustment

Tyres

Front traction tyres: 26.5 x 14 - 12; Rear steer tyres: 20 x 12 - 10.

Reel Drive

Reel drive circuit is split independently for front and rear cutting units. Reel speeds are electronically adjustable in nine incremental settings. On-board backlapping is standard.

Dimensions

Height: 160 cm to seat, 217.2 cm to ROPS
Length: 281.9 cm, Wheelbase: 152.4 cm 
Operational Width: 294.6 cm, Transport Width: 233.7 cm

Weight

With 12.7 cm cutting units: 2WD – 1,259 kg, 4WD – 1,282 kg
With 17.8 cm cutting units: 2WD – 1,319 kg, 4WD – 1,345 kg

Warranty

2 years limited warranty. Refer to operator's manual for further details.