Greensmaster® eFlex 1021 (04861)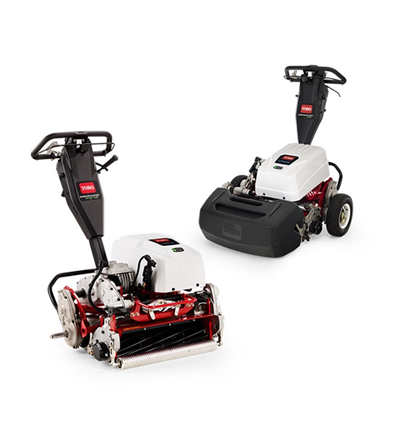 Extremely quiet, the all-electric Toro® Greensmaster® eFlex1021 is among the quietest and most efficient walk greensmowers on the market today. Harnessing the power of lithium-ion battery technology, this mower takes electrical efficiency to a new level, allowing operators to mow up to 3252 sq.m of turf on a single charge. Additionally, a convenient LCD screen indicates an ongoing battery charge status and also displays useful information such as machine hours, diagnostics, and overall battery health. These units are designed for minimal maintenace and long, productive life saving labour and operational costs.
The Greensmaster eFlex 1021 has patented Flex suspension technology with 53cm cutting widths.
Power

Lithium-Ion battery pack – nominal 50.4-Volt 26.7 A-Hr (42 – 56 volt, 1.345 kW-hr) with integrated battery management system utilising CAN communication with the machine controller and charger. Single battery affixed to unit and charged onboard. Brushless permanent magnet DC motor with integral motor controller and helical gear reduction.

Mowing Speed

3.2 to 5.6 km/h

Cutting Width

53cm (21")

Height of Cut

For Greens: (Spacer Position One) 1.5 mm to 6 mm For Tees: (Spacer Position Two) 3 mm to 9 mm High Height of Cut Kit: 9 mm to 25 mm

Number of Blades

11-blade and 14-blade cutting units available (8-blade available on e1021)

Drive System

(e1021) Dual position traction drum with positions for contour following or forward weight bias at higher heights of cut. (eFlex) Tapered traction drum for improved after cut appearance.

Certification

Designed in accordance to ANSI/CE/WEEE/ROHS/C-TICK.

Weight

132.5 kg

Warranty

Four-year warranty on Lithium-Ion Battery. Refer to the Operator's Manual for further details.

For complete product warranty information contact Toro Customer Service
TransPro 200
To safely transport the new walk greens mowers, Toro is excited to announce the introduction of the all-new TransPro 200 walk greens mower trailer.
The TransPro 200 is a purpose-built trailer to transport 1 or 2 walk greens mowers safely and securely. The new trailer uses a combination of adjustable roller pockets, rubber mats, and transport wheel/donut retainers to securely retain mowers in place helping keep precise mower adjustments intact.
The configuration of the trailer starts with the base unit (model 04239) and a ramp kit (model 04219) or rail kit (model 04229) is added to complete the configuration. Once configured, the trailer can be adjusted for either 18" (46cm) or 21" (53cm) wide mowers without the need for additional parts for kits.
The hitch design allows for 6cm of hitch height adjustment for optimisation with the tow vehicle. The adjustable hitch and lengthened ramps and rails make mower loading easy.

Hitching and unhitching from the tow vehicle is improved over other trailers with a release mechanism that utilises the weight of the trailer to release the retention pin when the tongue lever is actuated. The lever is also a convenient handle for moving around the trailer, loaded or unloaded.